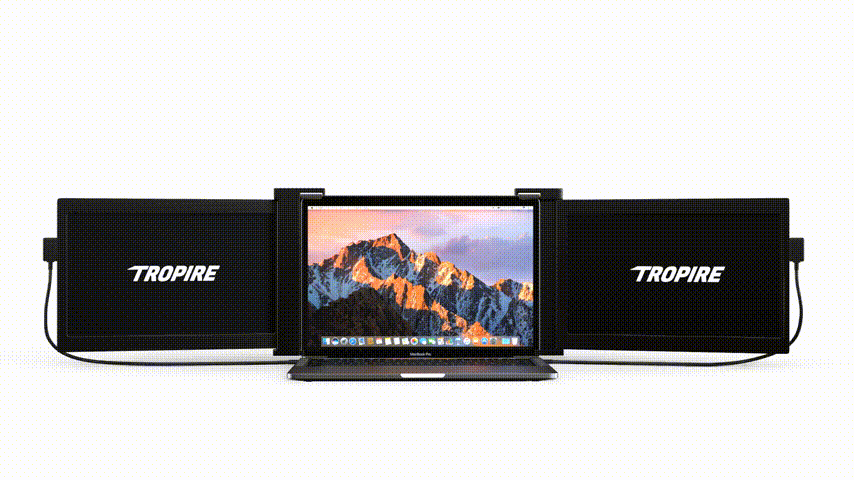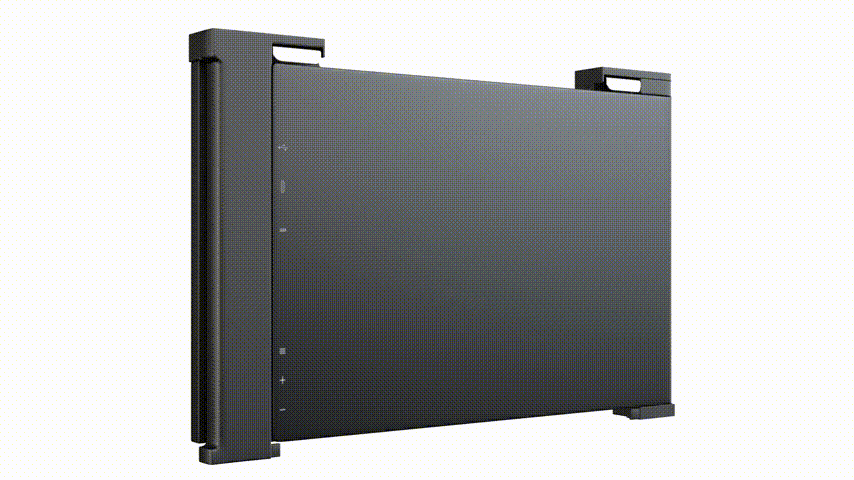 Easy Installation & POWERFUL SCALABILITY

It takes less than 20 seconds to install on your laptop. (Mac, Windows, Linux, Chrome, etc.)

The two screens has a large rotation angle.
This means you can choose the best viewing angel in any situation.
Before

After

Ensure Optimal Eye Comfort

Turn Eye-care Mode ON for optimal color temperature to effectively reduces the amount of potentially harmful blue light emitted by the display. When you are reading, word processing or in a low-light environment, it can help you to get rid of eyes fatigue and keep your eyes feeling comfortable.


Portable Triple Screen Laptop Workstation

Tropire's built-in stand can be adapted to 13-17 inches laptop, and each screen can be individually adjusted to the set display parameters.
Why choose the Tropire Tri-screen?

The 12.5 inch, 2.5 pounds weight exquisite screen can be easily stuffed into a backpack, and the Tri-screen can be used anywhere.

Experience the ultimate ergonomic design with a 8-level stand, offering customizable viewing angles and unparalleled comfort.

Turn Eye-care Mode ON for optimal color temperature to effectively reduces the amount of potentially harmful blue light emitted by the display.

The Tropire portable laptop monitor serves as an external secondary display for laptops, PCs, and select Android phones, while also functioning as a gaming monitor for the Nintendo Switch.
TRIPLE YOUR LAPTOP'S PRODUCTIVITY BY TRI-SCREEN
FREQUENTLY ASKED QUESTIONS

Can Windows system support Tropire monitors?
Yes, the windows system supports Tropire supports.

Does Tropire ship to my country?

Free shipping worldwide by Fedex/DHL.

How Do I Connect My Laptop If It Doesn't Have Two USB-C Ports?
While dual USB-C connections provide the easiest set up, not every laptop will have 2 video capable USB-C ports. If your laptop does not have 2 USB-C ports, it most likely does have at least one HDMI Port. This will be a simple setup as well!
What Is The Return Policy & Warranty For The Tropire Tri-Screen?

The Tropire Tri-Screen comes with a 30 day return policy and a 1 year warranty.

How long will it take to get my orders?

We do offer free shipping worldwide, the delivery time is 6-12 business days.

What does the shipping cost?
Deliveries made via our website (tropire.com) are FREE worldwide. There are no hidden charges on product price; we give you the best price at market value. On the other hand, we deliver via DHL/FedEx to areas that can be reached through this means.
Is Tri-screen compatible with Microsoft Windows?
Yes! Tri-screen is compatible with Windows, and macOS.
Who can use the dual monitor for a laptop?
Tri-screen is the right choice for anyone who wants to have the best experience coupled with higher efficiency. From programmers to stock/forex traders to bloggers and engineers, among others, with the desire to make their work a lot easier for productivity.
Is the Tri-screen portable?
Sure! The size of Tri-screen is 12 inches and the weight is 2.5 pounds. It can be easily put into a backpack, which is convenient for travel and business trips.
You can contact us through our Email: support@tropire.com
We will be happy to assist you.

Full HD (1920x1080) LCD IPS Panel

1.Tropire Tri Screen x1
2.USB-C To USB-C cables x2
3.USB-A To USB-C cable x2
4.HDMI Cable ×2









Versatile
Incredible product! Easy to install. It turns on quickly. I enjoy the monitor controls customization (brightness, contrast, backlight, etc.) The cords provided are high in quality. The inputs on the monitor can charge the computer, which makes it highly adaptable to your work environment. The picture quality is decent for the price. Overall, highly recommend this product for anyone who wants to be more productive on the computer on the go or limited space.
If you do stuff like music making or blender on the go. This is pretty much needed
Used Spacedesk for years with my laptop as another monitor, as I usually carry a tablet in my backpack. One disadvantage of it is that it is 720p or, with my tablet at least, 2k on a 10in screen, far too big of a resolution to be readable.
Then I found this while looking for an alternative. I don't need a stand, or at the very least need to 3d print one, to use it at a comfortable viewing angle, and they're not too high res for the screen size.
The way to use it varies by your laptop and almost any laptop made after 2016 should be usable, particularly gaming laptops, like mine. Needing 1HDMI, 1USB A to C, and 1 USB C to C, cables to use them both, and they're long enough to reach over to the left side from the right. Would I game on them... considering I don't care about refresh rate, probably, but that might not be ideal for everyone.
I like Tri-screen very much, it allows me to say goodbye to the trouble of switching tables, and it can be carried everywhere, which is very convenient.
In this kind of product, the price of Tropire is relatively affordable, and I feel that it is worth the money after using it.
Works great! It is a solid product and I'm happy I bought it.
Duel monitors are a must have for me, as a remote worker buying this has enabled me to leave the house and work from wherever my family wants to be and keep the productivity increase that comes from having multiple monitors.
The monitors fit both my laptops (work and gaming). Laptops I use it on are a Dell Latitude 5300 and a HP GU502G.
It was delivered quickly and was well packaged. It came with all the cables I could need for set up.
Set up takes < 20 seconds.